Simple example of how our press seek on a daily basis to whip up fresh moral panics to keep its (mostly older) readers in a righteous froth over declining moral standards,
young people today
and all that good stuff. The source here is
the satirical Lost in Showbiz blog from
The Guardian
- a good example of how broadsheets juggle the demands of retaining their reputation for hard news whilst covering celebrity and other soft news that draws in huge numbers online (and often features on the print front page trails too).
Just look at how often the X Factor is featured!
NB: The article below contains some explicit sexual references.
This example shows how the
Mail
rather preposterously cited "how
even
the Parents Television Council" took offence at a portion of the Graham Norton Show New Year special, using this as a means of justifying attacking a favourite target of the right-wing press: the BBC, bastion of public service broadcasting and thus a challenge to the dominance of free market ideology through its very existence.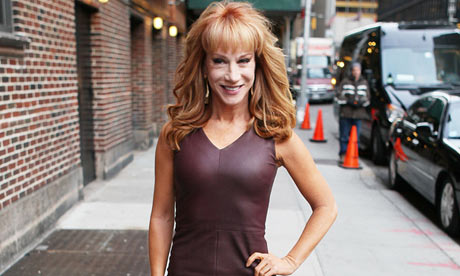 And so to America, where something of a storm appears to have blown up over CNN's live coverage of events in New York's Times Square on New Year's Eve. The programme was considerably enlivened by comedian Kathy Griffin referring to the fiscal cliff as "the fisting cliff", then repeatedly dropping to her knees and pretending to simulate fellatio on her visibly unamused co-host Anderson Cooper: "I'm going down, you know you want to," she told him. "I'm kissing your sardine."
Lost in Showbiz confesses that, at first, it thought this all sounded pretty funny. Indeed, it ruefully reflected that it sounded substantially more entertaining than anything on British TV on the night of 31 December. How much more interesting would Graham Norton's interview with Mary Berry and Paul Hollywood of The Great British Bake Off have been if the Grande Dame of the pithivier and petits fours had taken a leaf out of Griffin's book, suddenly grasped Hollywood's testicles and announced: "I'm tickling your sac"?


That was, of course, until it read the Daily Mail's take on events and was swiftly forced to reconsider. Keen as ever not to create an unnecessary furore, the Mail reported that "Many failed to see the funny side of her antics and branded her behaviour 'vile' and 'putrid'." To underline the seriousness of the offence, it added: "Even the Parents Television Council got involved and is said to be 'fuming'."




Lost In Showbiz must admit that it had never heard of the Parents Television Council, but it was intrigued – mostly by the use of the word "even" in the Mail's report. This suggested that it must be an organisation renowned for its restraint, which would start "fuming" only when faced with the most unbearable provocation. It definitely is not to be confused with, say, The Arnica Network, which recently orchestrated a campaign against the BBC,


claiming it had "missed another child protection issue". This sounds very serious in the wake of the Savile child-abuse scandal, but turned out to refer to an episode of the CBeebies programme Get Well Soon in which a singing doctor called Dr Ranj had given a puppet called Deep an inoculation. "Will Dr Ranj, who is a paediatrician from Kent, be struck off?" thundered The Arnica Network's founder, who variously claimed that the programme violated the medical ethics of informed consent and may have encouraged children to "play with needles".
That's clearly a bit OTT, but Lost in Showbiz looked into the work of the Parents Television Council and is delighted to report back that no one could ever use such a phrase in connection with its work. Here is an entirely unhysterical conservative organisation, famed for its softly-softly approach. In recent years, it has felt obliged to protest only against American Dad, CSI, House, the 2003 Golden Globe Awards, Two And A Half Men, Ally McBeal, Dawson's Creek, Glee (which it described as "an endorsement of narcotics abuse, public masturbation and school-sanctioned burlesque"), Gray's Anatomy, Family Guy, Friends, The OC, Spin City, That '70s Show, Will And Grace, WWF SmackDown!, Big Brother, Life as We Know It, Skins (which it suggested might violate child pornography laws), Without a Trace, Gilmore Girls, The Simpsons, the Who's performance at Live 8, NYPD Blue, Gossip Girl, Dexter, the video for a Miley Cyrus song, and an advert for Carl's Jr's Spicy BBQ Six Dollar Burger featuring Paris Hilton wearing a bikini.


Lost in Showbiz looks at that scant handful of complaints and says: here is an organisation that obviously feels impelled to take up cudgels only under the most extreme duress. If "even" it feels the need to get involved, something must be very wrong indeed. Now is surely the time not just for CNN, but every television organisation to follow the wise suggestion of the PTC's president, Tim Winter, and institute a code of conduct expressly forbidding "its on-air talent to fondle a co-anchor's genitals".
There are plenty more such examples on this blog, plus others linked from this blog such as the Mailwatch blog.