We're not far away now from Lord Leveson's initial findings, but no matter what the outcomes of
the Leveson Inquiry
you need to be able to outline and critically discuss arguments for and against
each form of regulation (statutory, quango, mixed [BBC], industry self-regulation, wider laws, laissez faire non/de-regulation [Desmond/Northern Shell]
). Former Justic Sec Ken Clarke's arguments, presented to the Inquiry, are very useful as an example of well-reasoned
pro
statutory regulation arguments. It seems likely his Conservative government colleagues will oppose any such change, as this clashes with their free market ideology (and political opponents accuse them of being too close to Murdoch still), with PM Cameron and Michael Gove making prominent speeches on this line.
I've copied in below
the full article
, which has stats from a YouGov poll for Hacked Off which outlines the extremely high level of public distrust of the media and support for statutory regulation (as with any poll its worth asking how well informed the public are in making such judgements), and outlines Clarke's main points and proposals for a much beefed-up PCC-successor with powers to fine and force apologies on any page they wish.
Ken Clarke tells Leveson he supports statutory press regulation

Clarke's remarks come as poll shows overwhelming public support for greater controls despite other ministers' opposition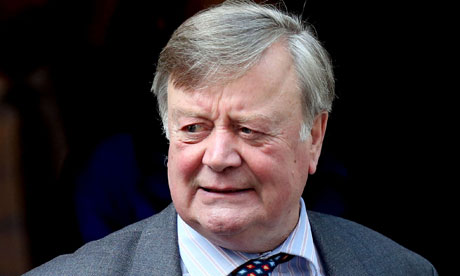 Ken Clarke, the minister without portfolio, has written to Lord Leveson saying he is not opposed to a form of statutory regulation for the press, pointing out that a similar statutory underpinning of the judiciary has not undermined its independence.




Clarke also dismissed those who claim that regulation would amount to Armageddon and backed a fully independent body capable of imposing fines.




His intervention follows sharp warnings by other ministers, including Francis Maude and Michael Gove, opposing any intervention to inhibit press freedom in the wake of the phone-hacking scandal.




Clarke's remarks come as a poll showed overwhelming support for greater controls over the media and widespread distrust over the closeness of politicians to those in the media.





Clarke sent his four-page letter as justice secretary in July and it was published on Wednesday. It is the fullest set of remedies from a senior government minister since the phone-hacking scandal was exposed. He stressed he was writing in a personal capacity, but his letter shows that government is not uniformly opposed to reform.




It is understood he has been unhappy at the way in which some lobbying on behalf of the revamped version of the Press Complaints Commission (PCC) has been undertaken.




Clarke writes: "I believe we do need a new regulator – one with substantially more power and independence than the PCC, which failed in its previous incarnation, and no longer commands the confidence of the public.




"I also share what appears to be the consensus view that a new body should be independent both of the industry and of political influence."




In a sharp break with what some cabinet ministers have been saying, he states: "I am not convinced, though, that a statutory underpinning of some kind would amount to state control of the press. You have pointed out the statutory duty of the lord chancellor to uphold the independence of the judiciary.




"I would note as well that press organisations have a legal obligation to register with Companies House and HM Revenue & Customs as businesses; this doesn't appear to me to amount to political interference in their work."




He adds: "The issue of some kind of backstop, statutory or otherwise, is important because a very difficult question that goes to the heart of the effectiveness of a new body is how you ensure membership of all-powerful media voices.




"I entirely agree with Lord Hunt [the current chairman of the Press Complaints Commission] that participation of all the big players is highly desirable if the new system is to have meaning. I am more sceptical than Lord Hunt though in thinking that publications would wear membership as a badge of honour; I can distinctly see the opposite being true. At the other extreme, I am troubled at the notion of membership of the body being a 'hard' requirement of the right to publish. I cannot see how we could reasonably have a system that forced bloggers and suchlike to sign up, nor licensed gadflies like Private Eye facing legal action and possible closure because they have not complied with a set of pre-agreed requirements."




Discussing what forms of sanctions could be applied, he said: "A different kind of answer may lie with the advertising agencies and media buyers. If they could be encouraged to support only those publications who were members of the body and who had signed up to the code, the attractions of joining would be readily apparent. This perhaps has parallels with the Advertising Standards Authority, albeit in the other direction, with banned adverts being pulled by broadcasters and




owners."




He also calls for the successor body to the PCC to be able to impose remedies, rather than negotiate them. "In addition, fines should be available for serious or systemic breaches of the Editors' Code [of Practice]. I would also go further than Lord Hunt in saying that the prominence and content of apologies should sometimes be set unilaterally by the regulator, generally pursuing the principle that it should attract 'similar prominence' as the offending article."




He adds that he is attracted to the idea of contracts, with the possibility (hopefully never used) of civil litigation if the contracts are broken."


The proposals for contract law have been put forward by Lord Hunt, the new chairman of the PCC, but need not conflict with some form of statutory underpinning to ensure all newspapers participate.


Clarke's support for independent regulation does on the surface conflict with Lord Hunt's idea of "independently led self-regulation".




The polling conducted by YouGov and handed to Downing Street by the Hacked Off campaign shows more than three quarters of the public prefer an independent body, established by law, to regulate the press rather than a body established by newspapers. Nearly four in five said the former came closest to their own view, compared with just one in ten for the latter.




Conservative voters are 80% in favour of an independent body v 12% in favour of self-regulation. Labour voters are 81% in favour of an independent body v 8% in favour of self-regulation. Lib Dem supporters are 86% in favour of an independent body v 10% in favour of self-regulation.




More than two thirds of the public agree that politicians are too close to owners and editors and can't be trusted to protect people from unethical behaviour by journalists.




71% agreed with this statement, with over a quarter (28%) agreeing strongly. Just 4% disagreed.




More than three quarters agreed that after the phone-hacking scandal it is no longer acceptable for newspaper owners and editors to control the complaints system.




77% agreed with this statement, with just 5% disagreeing.




Two thirds agree that the test of a new regulatory system is that it should satisfy the victims:




67% agreed with this statement, 7% disagree, 16% gave a neutral response.