[cross-posted from another DB blog]
Perfect article
from Roy Greenslade (whose work is worth browsing through for more great examples of analysis of the national press) to illustrate not only how events such as the Bloody Sunday killings, and the wider 'Troubles', have undermined positive representations of the Army upon which much of our collective British identity had been built, but also flak...
Before reading the article, ask yourselves which papers you might expect to be hostile to calls for British soldiers to be prosecuted for what is now legally recognised as murder of unarmed civilians; which, if any, might be supportive of this call? (If you want to get really sophisticated, one of the two most likely, as a left-wing leaning paper, to support calls for prosecution gave little coverage to the story - perhaps ever since they took the brave decision to campaign against the invasion of Iraq, and got incessant flak from much of the media, they no longer have the will to take up controversial causes? Clue: Piers Morgan was their editor, sacked as sales fell and for the scandal around a doctored photo they used on the front page)
Chomsky's propaganda model says that you can predict how the media will react to certain types of stories, with five filters dredging out the content that might be critical of our ruling elites (reflecting Marxist theory). Switching to film, remember Hennebelle's argument that even when we do get seemingly counter-hegemonic political films, they don't actually really critique the system, but rather argue that it will be fine if we just weed out the 'bad apples'.
Anyway, back to Roy...

Bloody Sunday: How the press greeted Saville's report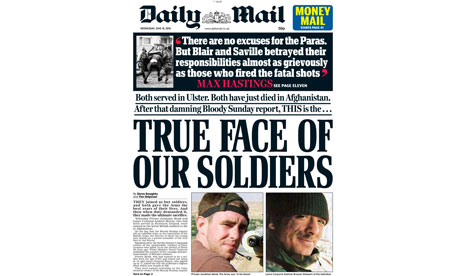 Unsurprisingly, given its content, the story of Lord Saville's report exonerating the 13 victims of 1 Para on that terrible day in 1972 dominated the television news throughout the day.

In terms of quantity - and I'll come back to the content in a moment - this was to be expected. The papers' treatment reflects the seriousness of the topic and therefore fulfil a public interest.

"It should suffice if dignified expressions of regret are voiced, healing efforts made and perhaps compensation offered... Since these are finally on offer, a start can be made to consigning Bloody Sunday to history."

If it kills its citizens, the state and its servants must answer for their actions. Saville's findings are part of that process. But the cases must also be properly examined by the prosecution authorities.
If the evidence permits, which at this distance it may not, those who killed the innocent in Derry in 1972 should be prosecuted. No amount of political convenience should be permitted to stand in the way of justice.

It complains about the cost of the inquiry and its longevity but it does not deal with the rightness or otherwise of prosecuting the soldiers.

He continues: "It may be true that this report offers an approximation of the truth, but it would be absurd to place unlimited faith in findings based on evidence gathered so long after the event."

And he concludes: "If there is now any hint of prosecutions, there will be just public outrage, when hundreds of Republican and Protestant killers walk free, and some indeed draw pay as MPs.

"David Cameron has responded to Saville with a fine combination of honesty, dignity and regret. We should all hope that this tragic fragment of history now gets decent burial."